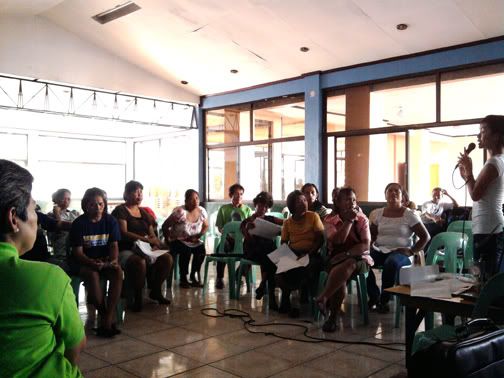 I've been spending some of my Saturdays with communities — the one on the picture's at the Barangay Talipapa, talking about the importance of proper solid waste management — and how people should not throw wastes at the waterways. This is part of the Adopt-an-Estero project of the government, in partnership with private agencies, NGOs, and of course, local governments.
The NLEX management will be adopting the Tullahan River, so part of the effort is to educate the residents along it (this case, Barangay Tullahan and Barangay Talipapa). They are building strategies and identifying key people who would be the "watchers" — sort of a community environment police (not the exact term though) who'd watch over the waterways.
There's gonna be a netting that will be put up to help clean the river and it's gonna be launched soon.
Well, I hope all of us will properly manage our waste. Don't just throw wrappers or what have yous anywhere. They usually end up clogging our esteros. We dont want another major flood to happen.